7 Tips to Create a Waiting Room That Keeps Patients Calm
By: Dinethra Menon - MedicalSearch Writer
25 May, 2015
The medical practice waiting room - nobody really wants to be there, and chances are there won't be too smiles going around no matter what you do to make the room more pleasant.
However, the atmosphere of the waiting room can significantly reduce patient anxiety levels, and that's something worth aiming for.
Does your waiting room consist of wilted pot plants, a collection of tattered outdated magazines, and a muted television permanently switched to daytime soap operas?
Perhaps it's time to enter the 21st with your decor just as you have with your equipment. Here are 7 tips to keep your patients calm in the waiting room by creating a warm, relaxed environment.
Colour and tone
Colours can change mood, create atmosphere and liven up your waiting room. While neutrals provide the best results for the majority of your space, you can introduce colour and tone for impact. While blood red perhaps conveys the wrong message, colour tones such as greens and blues achieve the best results for calming, serene and restful rooms.
Caroline Chaplin director of Rooms with Style describes how to achieve colour in your waiting room
Wall coverings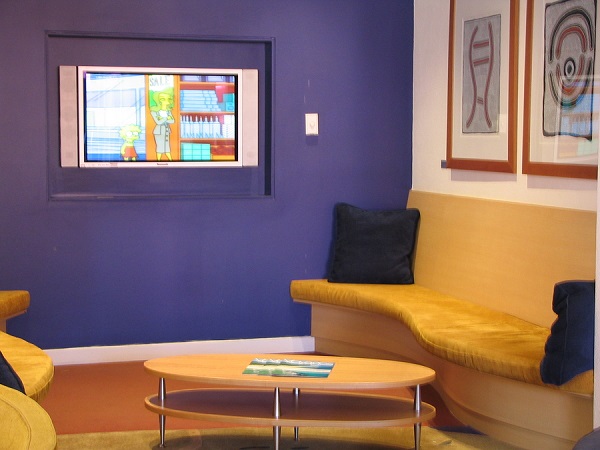 Although well meaning, wall posters in a waiting room with an aorta being squeezed of a white, fatty substance can increase anxiety.
You don't need to invest thousands of dollars in artwork, but well-chosen wall coverings can make the wait more pleasant and even provide an unwritten prescription for peace.
Artwork can help the healing process
Music and technology
Sound technology can be a useful investment. Selecting music that is soothing is a great tool to calm your patients while they wait. Patient access to a Wi-Fi network can also offer a welcome distraction – so long as your facility allows the use of electronic devices of course. With Wi-Fi now readily available at public venues and businesses of all different kinds, people are accustomed to keeping up to date while they wait.
Reproduce your own selection of music using APRA AMCOS licensing for Australians
Lighting
A well-lit room is essential for visual navigation and safety. Lighting can create a comfortable, airy environment if softened with well-positioned lamps and ceiling lights.
More on maximising natural light using sheer curtains or translucent shades
Clutter and cleanliness
Tattered magazines, dirty children's toys piled up in a corner or stained furniture in your waiting room can make patients less likely to relax while they wait. Pay attention to consistently updating items – and clean the room regularly.
Research from Princeton University Neuroscience Institute finds clutter limits focus
Literature
Magazines that are relevant to your practice or focused on healthy living are a wonderful way to educate your patients, while soothing concerns about their appointment. The majority of patients accept that waiting is a necessary evil – after all, when in it comes time to talk to the doctor themselves, they don't want to feel pressured or rushed. Even so, it doesn't hurt to help minimise patient boredom and frustration by offering them some worthwhile reading.
Understand the frustrations felt from the other side of the desk
Staff
Reception staff, practice managers or healthcare workers are often the first points of contact a patient has with your practice, so make the right impression. Ensuring patient conversations cannot be overheard in the waiting room, or offering a simple explanation about wait times reflects a professional, personal approach that won't have patients running for the doors.