Perfect Practice: Top 5 Best Practice Articles for Medical Facilities
Here's a look at the best practice topics our audience of medical professionals were most interested in over the past financial year. Is your practice running at optimal efficiency and offering a quality experience for patients?
Whether you manage a clinic, hospital, private practice or any other medical facility, you face daily challenges in providing the type of service your patients deserve.
Check out this list of our top tips and how-to guides to help create that perfect practice:


Published 15 June 2015
A visit to the hospital can be a stressful experience for patients and their families. While staff efficiency and effectiveness can improve patient outcomes, long shift hours can be an unavoidable aspect of working in a hospital, and can impact on standards of care for patients, medico-legal complaints, long-term patient management, or continuity of care. READ MORE


Published 25 May 2015
The medical practice waiting room - nobody really wants to be there, and chances are there won't be too smiles going around no matter what you do to make the room more pleasant. However, the atmosphere of the waiting room can significantly reduce patient anxiety levels, and that's something worth aiming for.


Published 4 May 2015
Your bedside manner can provide your patients with a positive healthcare experience – regardless whether you're delivering difficult clinical outcomes, trying to calm nervous patients or obtain vital clinical information. READ MORE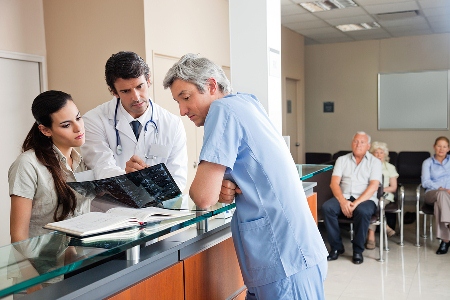 2 March 2015
Efficient admin can improve operations in your small medical practice. Doctors maintain processes and practises by monitoring duplication of services, overly expensive inputs or inefficient systems. READ MORE


4 December 2014
The manager of a medical practice can be the tipping point between an average and an excellent clinic. Hiring the right person for the position is an important step. Here are MedicalSearch's tips to help in the process. READ MORE