A new alternative for aged care and disability bathing
Adults who need assistance with bathing can often find the activity to be not only physically demanding, but also emotionally demeaning.
There are several contributing factors that can work together to make this a negative experience, including pain, fatigue, weakness, confusion, fear of falling or slipping, and the understandable anxiety of having to be exposed in front of strangers.
To the person who requires assistance with bathing, the change to assisted bathing represents a negative milestone in their life, indicating a decline in well-being and independence, causing higher levels of emotional distress.
Carers and Occupational Therapists are critical in improving the bathing experience for older and disabled clients. As person-centred care becomes the norm, the resident's point of view becomes more apparent. The behaviours we have previously labelled as 'aggressive' or 'resistive' are often defensive actions residents take when feeling threatened or anxious.
The challenge has been, and still is, how to offer a better bathing experience for the client that will not cause further load for the caregiver. The traditional approach has been in-shower and in-bed methods, however, recent advances in the design of specialised 'walk-in' baths has offered a better alternative.
The new way forward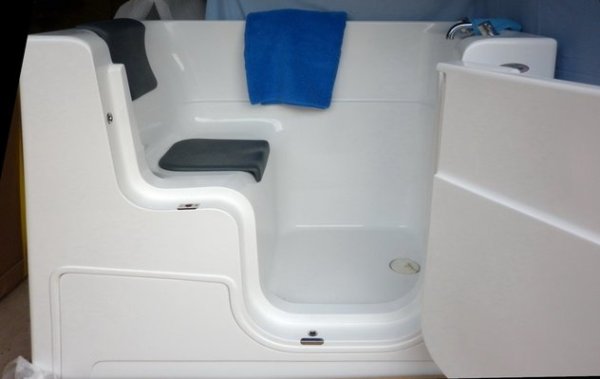 Lifting people in and out of baths is really hard work, which can easily result in injuries for all involved. To address this, walk-in and sit-down baths were designed with carers and people experiencing limited mobility in mind. These designs helped to ensure bathing is made easier for carers and safer for the person being bathed.
In recent years, walk-in and sit-down baths have been designed with outward opening doors, which enables easier access from a wheelchair, a hoist and for assisted entry. These new designs also feature faster filling and draining, along with inbuilt hydrotherapy systems.
In a Sydney group home for clients aged 55+ with intellectual disabilities run by ACL Disability Services, the easier access aspect was found to be beneficial for carers. "We have had a great experience with our walk-in bath for our clients with mobility issues. Our clients love their walk-in bath as they get to relax after a long day with a long soak in the bath," said an ACL Disability Services spokesperson.
The traditional approach to bathing for the elderly and for those with mobility challenges can present a multitude of problems, from psychological issues to safety concerns. Perhaps it is time we took a closer look at how we bathe our clients, and what the experience is like from their perspective. New client bathing alternatives should be seriously considered, and we need to be asking ourselves whether we are using the best approach.