Top Considerations When Working With Home Care Patients
By: Dinethra Menon - MedicalSearch Writer
29 October, 2014
Home care services may be essential for patients with limited transport or lower acuity problems, and can even help reduce wait times in hospital emergency departments.
Stepping into the home of your patient may feel like you're blurring the line between professional and personal boundaries. However a home care visit can empower your patients; offering you insight into their lives.
Patient privacy and confidentiality
Home care transfers your patient's personal and confidential details from your practice to external locations. The simple act of taking a file home in your car or discussing a home care patient over the telephone requires adherence to the health information and Privacy Act.
Considerations for patient privacy and confidentiality include handover of clinical information, sharing medical records, appointment schedules, Medicare information, and maintaining up-to-date records.
For more information visit the government privacy fact sheet or contact your medical indemnity organisation
Tools and equipment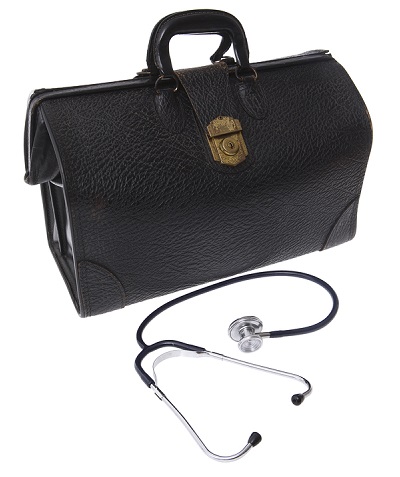 Regular home care appointments may require you to carry a doctor's bag for your medical equipment. Consider safe and secure storage of your doctor's bag in between home care patient visits.
General medicines for your doctor's bag can depend on the type of clinical conditions likely to be treated.
If medicines are to be kept in a doctor's bag, consideration may need to be given to the shelf life, environmental temperature and safe storage of medicine.
Read more information on standards for your doctor's bag
Will the home care visit be safe?
While hot tea and biscuits on arrival may be too much to expect, your safety is paramount. Consider restraining dogs, turning on an outside light at night, guidance on identifying the residence, or alerting your patient when you are leaving for your visit.
Serious safety concerns whether the home is safe and reasonable such as evidence of a threatening or abusive person present or a request for pain relief, should be decided by your practice prior to a visit.
Geographic area
You can improve your efficiency by limiting the geographic area for home visits, planning half a day of visits in one neighbourhood, or starting with the address the farthest away working back towards home or your practice. Consider easy access to a map and your mobile phone.
Scheduling times during the day for home care appointments can also ensure suitable navigation and visibility.
Read more on home care geographic standards
Billing arrangements
Your practice policy may stipulate additional fees for visits higher than the government rebates for home care.
Avoid confusion or concerns by publishing fees on your website or have your practice staff advise patients of a reimbursement gap when the appointment is scheduled. This could prevent a difficult conversation later on.